Remember a few posts back I said I was working on decorating the living room? Well, I'm still workin' on it!
I have a few pieces completed, but not quite everything! I'm still looking for a few more pillows to add to my collection, but can't make up my mind!
Now, a few things you should know. My walls are not quite white, they have more of a beige color, and we have 2 walls that are an eggplant purple. We love the colors, but sometimes it seems too dark. So we decided to add white window treatments to help lighten the place up and then add a few neutral, and a few colorful pillows to go on the couch.
I've been going back and fourth on how I could possibly mix patterns, colors etc.
A few inspirations pictures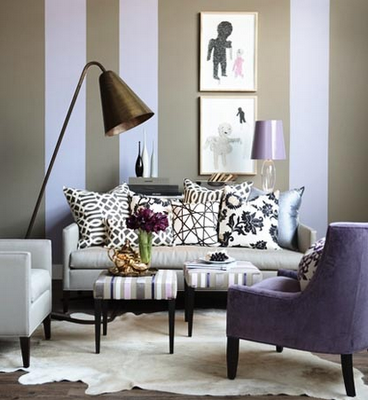 I'm completely in love with all the pillows on the couch, and the different pops of color. I don't love the stripped wall. I'm more shabby chic style, this is more retro modern style.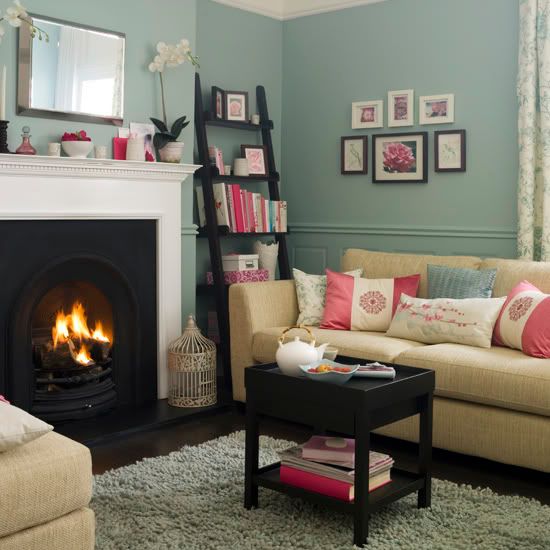 This one makes me melt. I can see myself a single women living in the city, who's just graduated school of interior design. I love the color of the walls, the amazing pillows and all those pops of pink. C would not approve of it, so at last, I can just dream. Do you see that sweet birdcage in the corner? I'm drooling.
And something a little more realistic
It's very bright, and looks so comfy to be in. We spend a lot of time in our living room, so it has to be livable. We have a big TV and that oh so comfy
couch
. I like that this couch has a white slip cover, which means it's probably easy to wash.
Holly
just had a slip cover made for her sofa and now I'm looking to do the same.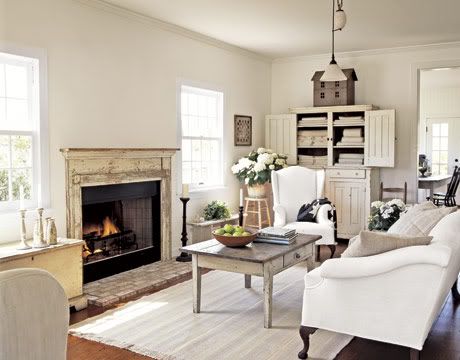 This one has that white couch again ( see where I'm going with this?) I love the rustic furniture and the pop of colors made by the green apples on the coffee table. I wish I had enough room for a wing back chair. I'm already struggling trying to get rid of one piece of my extra large furniture.
I'm browsing through etsy day and night looking for the perfect pillows to complete my set, but I haven't found them just yet. I'm hoping by the end of the weekend I should have a good idea of what I need to finish
(can you ever really finish decorating?)
I'm also doing quite a bit of spring cleaning this weekend with C. It's suppose to be nice outside, and we're taking full advantage of cleaning out the garage and airing out the house. Hopefully this will snap me out of the funk I've been in for the last week.
I hope you all have a great weekend!