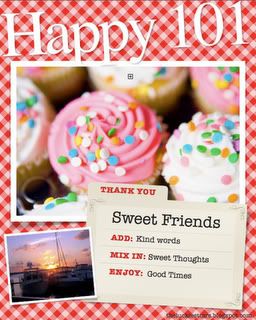 I've been Tagged by Heather over at
Heather Drive
Thanks Heather! Everyone needs some sweet reminders once in awhile so here goes nothing.
The Rules:
- List 10 things that make you happy
- Tag 10 other bloggers and link back to the person who tagged you
My List:
1. Date Nights. I love dressing up and spending time with C
2. A Clean House. It makes me so happy to have no dust, no dishes and vacuumed floors
3. My puppy dog
4. Traveling. I can't get enough. New sights, new food, new people. It's amazing
5. My Camera. It goes where I go. I love learning new tricks and taking photos of things that other people can't see.
6. Stocked Fridge. While grocery shopping isn't my favorite thing, I love when we have yummy goodies to cook or eat waiting for us in the fridge
7. Snow Storms. I wish we had more of them around here, but the ones I've been part of are awesome!
8. New Sheets. I seriously sleep better one brand new sheets or even freshly washed and dried sheets. I hate when my sheets become wrinkled and slept in.
9. Hair Appointments. Nothing makes me feel better or more beautiful then just having my hair highlighted and cut.
10. Fall. It's seriously my favorite time of year. I love the smell, the weather, the decor and the yummy goodies. I could seriously live in Fall all year long.
Now I tag the following:
1)Kristal at
Good Food Good Friends Good Life
2)Alyssa at
My Husbands Watching TV
3)Holly at
Life In The Fun Lane
4)Bethany at
Somethin' To Talk About
5)Lisa at
High Heels and Sweatshirts
6)Kirsten at
Newlyweds Next Door
7) Meredith at
La Buena Vida
8)Leah at
Marital-Bless
9)Jenn at
Living Life
10)Chelsea at
Room To Inspire
Have fun ladies. I can't wait to see your 10 favorite things!