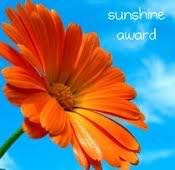 I got my first blogging award from my new blog pal
My Husbands Watching TV
.
She is so sweet and apparently is the only one that leaves me comments. LOL I guess switching new blogs doesn't mean your readers follow you over! That's okay :) I enjoy JUST her comments anyway! I kid, I kid.
I'm not sure how these awards are made up, or what you really do with them, but here goes the rules anyway!
-Copy that little orange flower pic and put it on your blog when you post about your award!
-Pass the award on to 7 other bloggers.
-Let the nominees know that they have been honored by leaving a comment on their blog (we all love comments!)
-Share the love and link to the person who nominated you!
I'm tagging the following girls!
Viva La Buena Vida
She is such a funny duck and just had the cutest baby girl ever! She has a great sense of style and I can totally relate to her AND her husband!
Heather Drive
I found Heather over on the knot when she first got engaged almost a year and a half ago. I love her witty sense of humor, her many recipes and her cute little weeny dog, Tessa :)
My Life In Transition
Julia is so cute! She is a craft queen, has a great photography eye, a baby on the way and a handsome dog! She also makes me want to run millions of miles a day, but alas I'm not as skilled as her.
Newlyweds Next Door
I just started reading her blog and am having so much fun! She seems really down to earth, and we share a few common interests! I can't wait to learn more!
I know I'm suppose to tag 7 blogs, but if I seriously don't get to bed my head is going to fall off and Sparky wont want me in the car for 12 hours tomorrow.
Enjoy your award ladies!